Upcycling isn't a Trend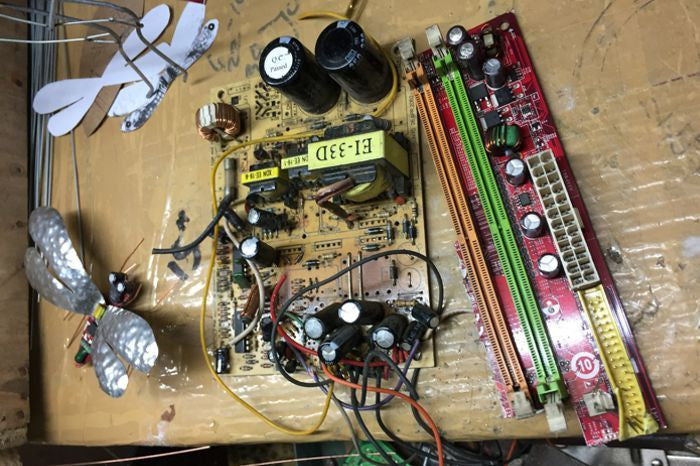 The global rate of E-waste production is growing. A 2010 United Nations report stated that the current amount of E-waste will increase by as much as 500% in some countries over the next decade as countries prosper and consumers purchase more and more electronic goods." According to Allen Hershkowitz, senior scientist and authority on waste management at the National Resources Defense Council, Americans throw out about 130,000 computers daily."
Let's embrace our waste!
*The following is excerpts from the an article written in 2013 by Jennifer Namias, whose research was sponsored by Earth Engineering Center, Columbia University.
Consumer electronics have become an integral part of daily life and revolutionized the way we communicate, retrieve information, and entertain ourselves. Rapid technological advancements and growth in the electronics industry have led to a constant stream of new products and a resulting decrease in the life span of electronics. Globally, more than 50 million tons of e-waste were discarded in 2009 and 72 million tons are expected to be disposed in 2014 (Ping Jiang et al.).
End-of-life management of e-waste includes reuse of functional electronics, refurbishment and repair of electronics, recovery of electronic components, recycling e-waste, and disposal. Reuse, refurbishment or repair of electronic products is most desirable since this option increases the life span of the electronic product and higher resource efficiency. Recycling of electronics allows for precious and special metals to be recovered, reduces the environmental impact associated with electronic manufacturing from raw materials, and ensures that hazardous and toxic substances are handled properly.
Currently, the main driver for the recycling of e-waste is the pressure of regulatory factors. Lack of national regulation has been shown to significantly hinder recycling rates in other nations (Solving the E-waste Problem (StEP), 2009). Currently, there is no U.S. federal mandate to recycle electronic waste but twenty five states have enacted legislation requiring statewide ewaste recycling.
Despite the benefits of metal recovery from e-waste, its recycling in the U.S. is limited due to: (1) insufficient collection (2) no federal legislation or policy mandating e-waste recycling (3) lack of recycling and recovery technologies and (4) illegal export of hazardous e-waste to developing countries where recycling processes pose serious risks to human health and the environment. In order to increase the e-waste recycling rate in the U.S., Federal regulation is needed in order to develop the necessary infrastructure, by setting mandatory recycling targets and establishing financing and enforcement mechanisms for e-waste collection and recycling. Also, regional and local authorities need to increase public awareness and provide the means for consumers to bring electronics to collection points. Promising end-processing methods, such as non-toxic hydrometallurgical processing methods, should be implemented as a domestic solution to e-waste recycling in the U.S. Also, global efforts should be geared toward increasing the ewaste recycling capacity of existing and additional smelters, and streamlining the process for ewaste recyclers.
THE FUTURE OF ELECTRONIC WASTE RECYCLING IN THE UNITED STATES: Obstacles and Domestic Solutions By Jennifer Namias   
bit.ly/1INJZRU